In honor of creating a new category (Delish!), I'm doing a little post about one of my favorite brunch-at-home treats: Apple Thing
This dish is a semi-invention from our home, but basically it boils down (actually there is no boiling involved) to sauteing sliced apples in spices & butter in an oven-safe pan, sprinkling with some sugar to coat them with ooey-gooey caramelization, pouring a half-batch of slightly modified popover batter on top, and popping it into a 4oo° oven for about 20-25 minutes. (If I had been inspired to write this post BEFORE beginning the process instead of once the yumminess was plated, sitting on my lap, & ready for consumption, there would be photos for all of these steps… Oh well…)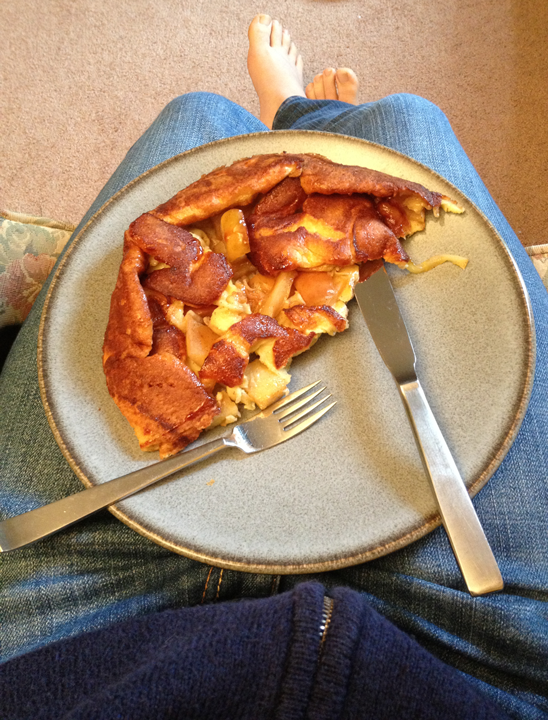 Apple Thing on a plate, or half of it anyway
The evolution of Apple Thing grew out of a household love of popovers starting about five years back. I know it sounds crazy, but sometimes just eating popovers can get a little boring, so we started looking for different kinds of recipes online that added extra bits of flavor. The earliest experiments were with sausage, but soon we discovered a recipe for an upside-down apple "cake" that used a batter with ratios very close to those of the popovers we liked to make (of course, five years later, I can't remember the name of the actual dish or the site on which we found it…) Since we made it in a frying pan & not popover tins, it didn't seem right to call it a popover, so we gave it the very clever name Apple Thing. (Naming food items is not where we are our most creative; we have an entirely unrelated brunch item that is basically a sausage & spinach egg-white flat bread sandwich that we call Breakfast Thing. We are very big on Things when it comes to food inventions.)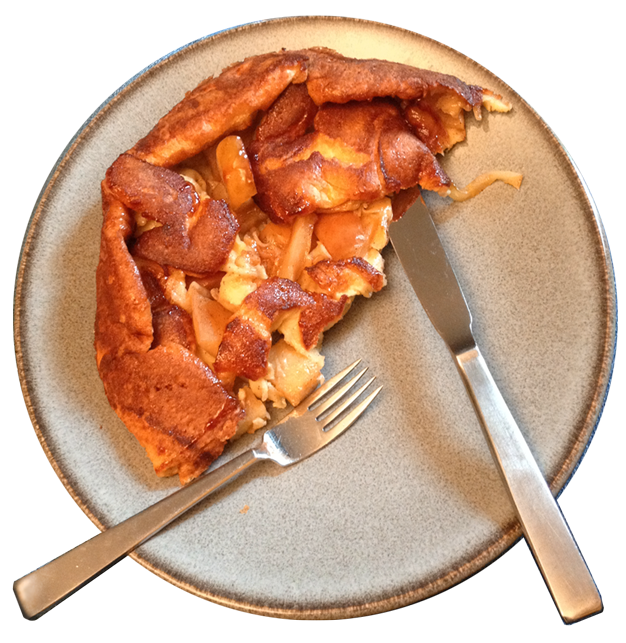 mmmmm, Apple Thing…
Not only does the occasional appearance of Apple Thing in our weekend diet add some sweet variety, but the dish also needs to spend slightly less baking time than popovers, which means less time spent waiting to eat while it is in the oven (even though with the extra prep for apple cutting, sauteing, etc. the actual start to finish time is pretty close to making traditional popovers.) This is a good dish to make with two people doing the work, so one person can be on apple duty while the other mixes up batter, and although it can be cut into multiple slices like a pie or cake, the dish is a great size to share between 2 people – if you aren't planning to eat anything else with the meal…
I'm happy to share our batter "recipe" specifically, if anyone wants it, but it is tweaked to suit our personal taste, so there's less butter, less sugar & less salt than others may prefer; if you are a fan of a particular popover recipe, just go with that, making enough batter for 3 "normal" sized popovers (popover recipes are often designed for 6.)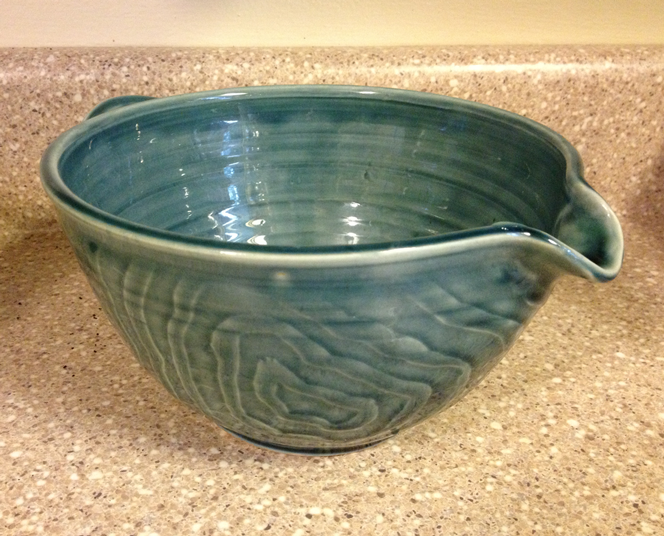 My favorite spouted batter bowl from Michael Sullivan's The Mud Studio
Depending on apple size, we usually use 2-3; make sure that they are a firm enough variety (NOT macintosh) that they can withstand sauteing without falling apart. We leave the skin on our apples, too, which helps the slices stay intact. Before throwing the slices in the pan, throw in a pat or two of butter, depending on your taste preferences. I like to use salted butter and forgo putting salt on the apples, which real chefs might frown upon, but this is my kitchen, ya know? Also, depending on your particular taste, add any spices you like in apple pie or spiced fruit dishes as well as sugar to taste – we use 1/8-1/4 cup sugar depending on the sweetness of the apples. (Want to make your fruit-spicing-life easier? Do like we do, & buy pumpkin pie spice, a pre-mixed combo of cinnamon, allspice, ginger, etc. Of course we LOVE ginger, so we typically add extra ground ginger.) Since the apples get both sauteed & baked, you do not need to saute them until they are totally soft merely until they are softening. From starting the saute process through adding spices & sugar should only take 5-10 minutes (disclaimer, I am kind loosey-goosey with the way I create & follow "recipes" – another reason I'm not writing one out here.)
Once the apples are sauteed & caramelized, don't wait, POUR the batter as evenly over the apples as possible. I usually shake the pan a little to level the apples out before pouring the batter on. The apple slices might float around a bit once you add the batter, and that is OK. Then, into the whole thing goes into the oven until batter is goldened on top. Once oven time is done, take the pan out and very soon thereafter flip the Apple Thing onto a plate (the flipping will be much harder & messier if you don't do it right away, so try to have the plate/platter you want to serve it on ready.) Once flipped, the batter side will be on the bottom and the caramely apples will be on top. Cut the Apple Thing into as many pieces as there are people to eat it, & enjoy while it is HOT!
 A list of important DON'Ts to make your life better:
DON'T forget to start the oven preheating before you do the other prep work – it needs to be hot and ready @400° as soon as you pour the batter over the apples
DON'T skip the butter part of "sauteing sliced apples in spices & butter" – it helps sticky apples release from the pan when you flip it (and taste so good)
DON'T forget to use an OVEN SAFE frying pan (cast iron should work, but we rely on a caphlon pan that has a "normal" long pan handle on one side and a drawer-pull style handle on the other, which makes for easier flipping)
DON'T use a pan with super low/flat sides, or you will surely have some overflowing issues when the batter rises/expands – ours is just under 2″ deep
DON'T open the oven halfway through oven time. Peeking towards the end to check on degree of goldenness is okay, but you don't want cold air getting to the batter while it is baking and rising
DON'T forget that the pan will be scorching once it comes out of the oven, and for goodness sake DO NOT touch it with your bare hands before it has cooled. (If you tend to be someone that forgets that a pan is still hot, put the empty pan back into the oven until later.)
So those are the basics, and if your tastes are like mine, this is what the plate will look like after just a few minutes after serving: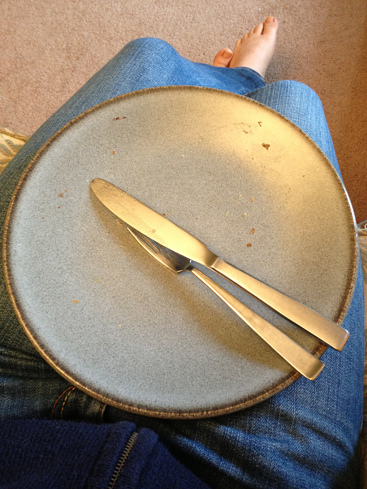 All Gone!