What's that thing you hear coming out of so many mouths durning awards' seasons, "It's an honor just to be nominated"? Well, the truth is that it really DOES feel pretty great to get an award nomination. I think it's because so often the feedback we receive on our projects are from colleagues, friends and family, who are almost always biased in our favor. It's not that we don't believe them when they shower us with compliments, or that it doesn't feel wonderful to hear their praise, but we do have a tendency to filter their responses through more than a few grains of salt, don't we? But when some guild or review board or association (who seem somewhat without individual identities because of their group presented front) include your work on a list of only 8 pulled out of more than 20 times that number (167 to be exact), it feels more like the masses have recognized your abilities and efforts.
Last fall I designed the set for a project with an exciting new company in Boulder Colorado, L.O.C.A.L. Theatre, helmed by Artistic Director Pesha Rudnick (full disclosure, she is also a dear friend of mine, whom I personally think is an intensely discerning and poetic theatrical artist). The project, Elijah: An Adventure, a new play by Michael Mitnick & directed by Rudnick, was a mulit-media, dream/memory-play. It needed to have the solidity of history and the gauzy mutability of imagination. Of course, it also needed to be a world in which location could shift just as fluidly as if it were a series of episodes experienced during an REM sleep-state. I created an inside/outside, surrealist playground in which the only solid "walls" were made of string curtain, something which created a clear and distinct separation of space, but which could also be swagged like a curtain or walked directly through. Additionally, the curtains had just enough surface material that they could be projected upon (which was part of our material selection criteria going in – remember this was a multi-media project). Here are a few photoshop storyboards I made for the design: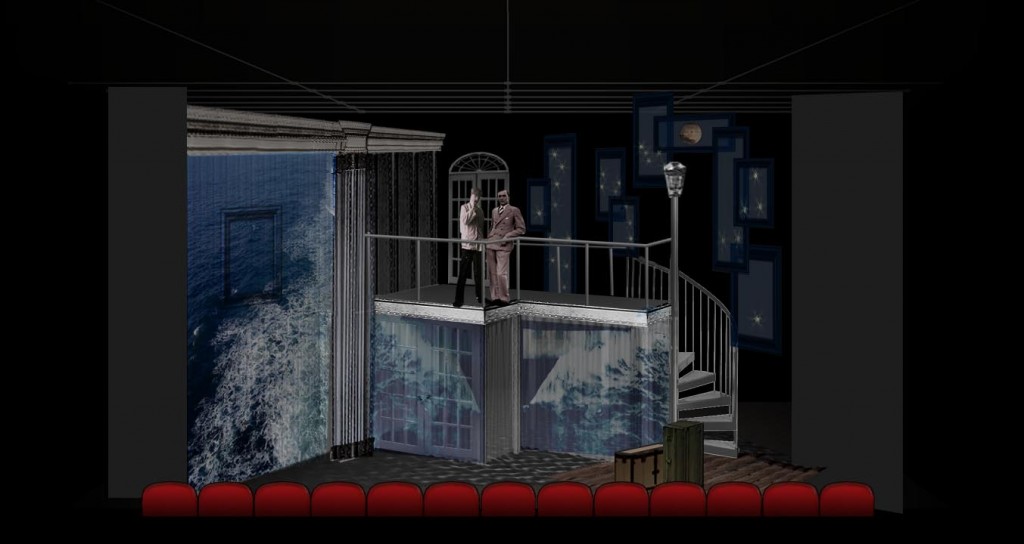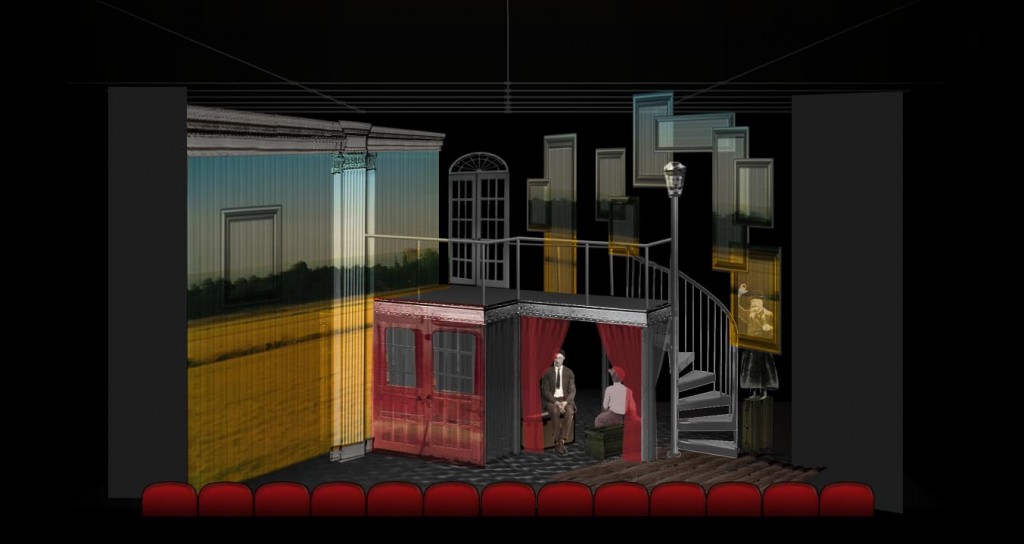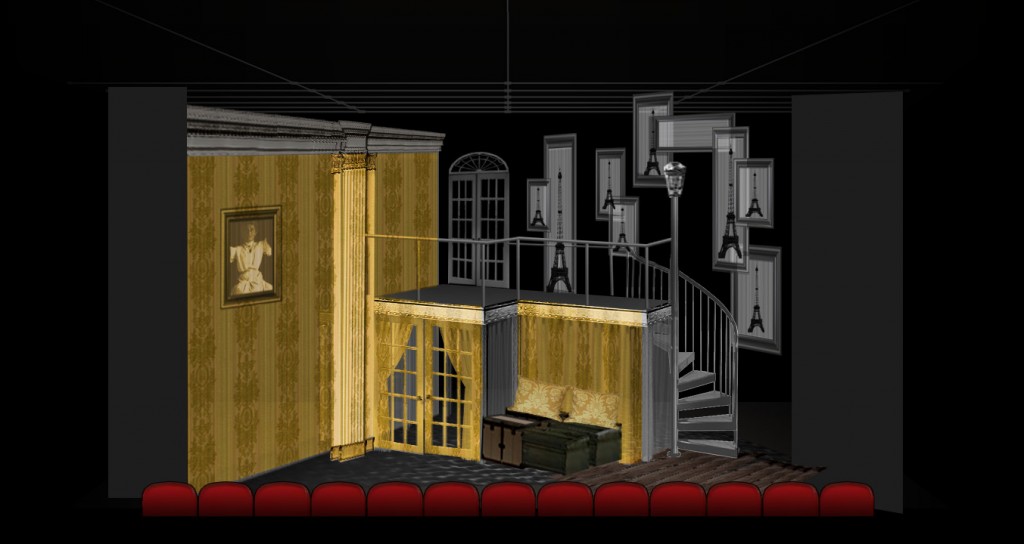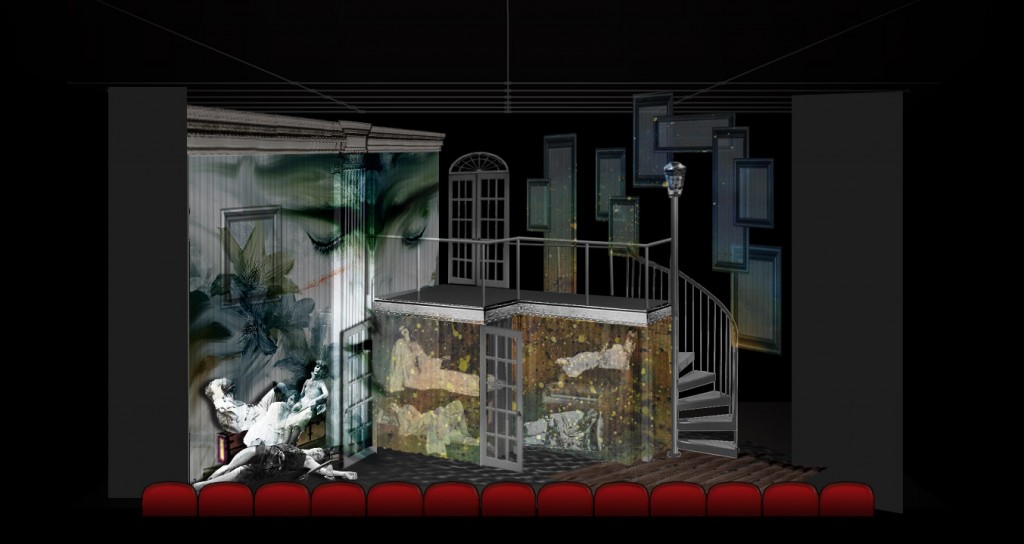 Unfortunately, it is so very hard without the right photographic equipment to really get effective shots of sets using projections. (In order to have vibrant projections, the stage light must be very controlled and often needs to be kept at a low level, but the areas of focused light are still bright enough that the overall light to dark contrast is too extreme for many cameras to interpret the brightest and darkest areas in the same shot.) Here is a photo of the set (shown with some of the string curtains swagged), but of course, it does not truly do the experience justice. But photographs of live theatrical performance can never truly do the experience justice. They are merely reflections of singular moments, a few threads pulled out of an intricately woven tapestry, from which you may understand the equivalent of a phrase but never the entire story told by the event. And of course photographs can only capture images, not the energy or evocation of actors on the stage.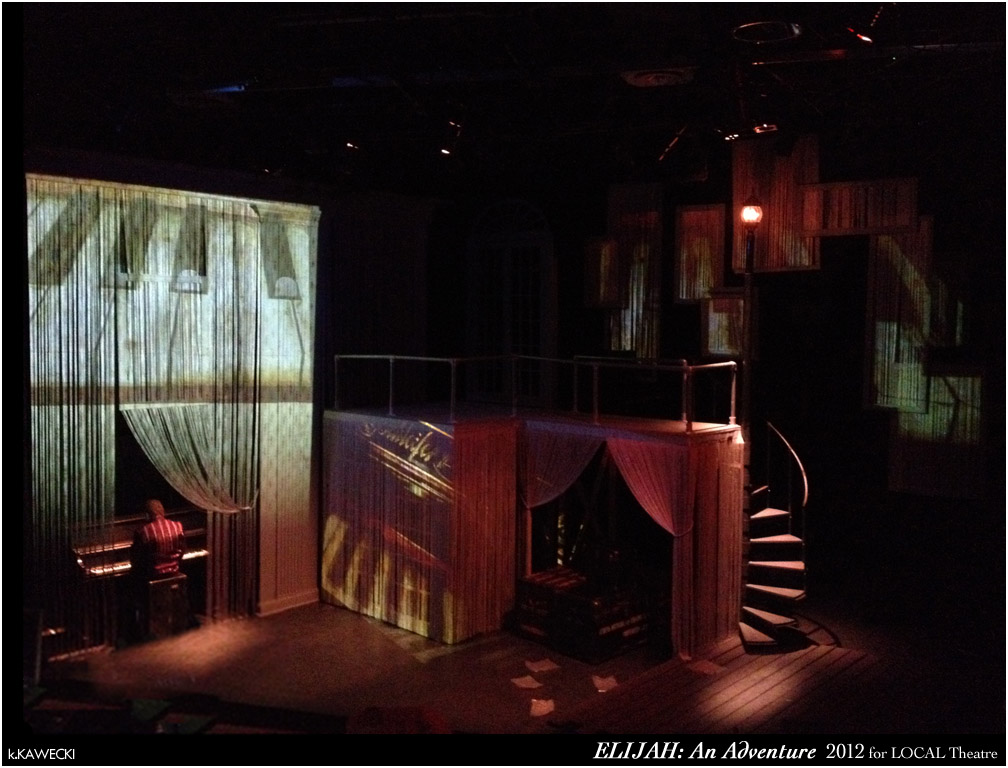 Back to the beginning: I just discovered (via Facebook, sort of – a Colorado acquaintance congratulated  a friend on getting a nomination, so I googled the listing just for kicks, and voila, there I am on it) that my design for Elijah: An Adventure has been nominated for a 2013 Henry Award in the Outstanding Scenic Design, Small Budget category. Also, the play itself was nominated in the Outstanding New Play or Musical category, so congratulations to Michael Mitnick, Pesha Rudnick, LOCAL & the entire company! On a semi-related note, congratulations also to Shannon McKinney (our Lighting Designer who almost swept the Outstanding Lighting Design, Big Budget category  earning 3 out of 4 noms) and Kerry Cripe (our TD who got nominated for Outstanding Lighting Design, Small Budget) for their design nominations. Congratulations also to BETC and their theatrical artists on all of their many nominations (and who also hired me for the very first Colorado project I ever did, The Glass Menagerie, also directed by Pesha Rudnick).